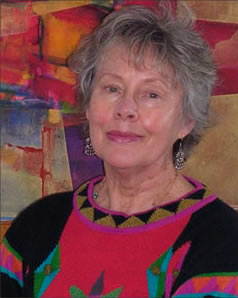 Painting and the fine arts have always been an integral part of my life. But it was as a weaver and clothing designer for many years, first in Sweden, where I was born, then in Belgium and France, and finally in the United States, that I learned the supreme importance of color and texture. These elements, combined with the fabulous palette of Arizona's earth and sky, have inspired me both in my landscape and non-representational (abstract) painting. My art is an act of homage to the gifts of nature and to the wonders of the imagination.

I began formal art education at L'Ecole Superieure D'Architecture et L'Art Appliqué in Brussels in 1977, and continued my studies at Pratt Institute in New York City, receiving my A.A. degree in textile design in 1982. I also studied drawing and painting at the Ecole des Beaux Arts in Cannes. While living for many years in the South of France I operated my own studio/workshop, where I sold hand-woven jackets of my design. The brilliant colors of sea, sky and earth along the Mediterranean entered indelibly into my creative imagination.

My work may be found in many private and corporate collections in Europe and the United States.



Birgitta's work is also on display at the following Arizona locations:


Jerome
Zen Mountain Gallery
515 Main St.
tel. 928.634.5009

Jerome
Jerome Artists Cooperative Gallery
502 Main St.
tel. 928.639.4276


Sedona
Sedona Arts Center
15 Art Barn Rd.
tel. 928.282.3865


Sedona
Eisenart Innovations
at Tlaquepaque, Shop B-107
tel. 928.204.6443


---
What is a Giclée Print?
The name "Giclée" (pronounced zhee-CLAY), from the French word for "squirt," applies only to those prints made with the finest ink-jet technology available today. Because of their unrivaled quality, Giclée prints are widely regarded by artists, art professionals and art- buyers as the preferred form of image reproduction. They impress the viewer instantly with the look and feel of an original.

Not only are Giclées produced with a much higher resolution than ordinary prints, they rely on vastly superior media--paper and ink--for enhanced tonality, stunning color, and dependable longevity. It is this last characteristic of the Giclée, its color-fastness or archival rating, that most distinguishes it from ordinary inkjet prints, which often fade within just a few months. Giclées typically have an archival rating of 50 - 100 years when properly displayed (not in direct sunlight, protected from airborne pollutants, etc.).
---
About the Prints
Prints are available unframed and unmatted in the following sizes:


Print Size

Price

11" x 14"

$35.00

16" x 20"

$55.00

22" x 28"

$95.00

Meditation Landscapes

11" x 11 "

$35.00

16" x 16"
$55.00
22" x 22"
$95.00
Canvas Gallery Wrap
Prints are also available on canvas, mounted on wood stretcher bars with a three-quarter inch edge, as illustrated, right. They are varnished for moisture- and UV-protection, and are ready to hang with no additional framing.
Print Size

Price
14" x 18"
$115.00
18" x 24"
$145.00
Custom Sizes
Inquire for Price
---
Custom Orders Are Welcome
All images are available in any size.


---
How to Order
To place your order, email us at kblapides@msn.com or use our message form on our contact page. Shipping charges will be calculated for each order according to size, weight, and destination (your zip code is required). You will be advised by return mail of your order total and payment instructions.